Directions to Northern California's most active public observatory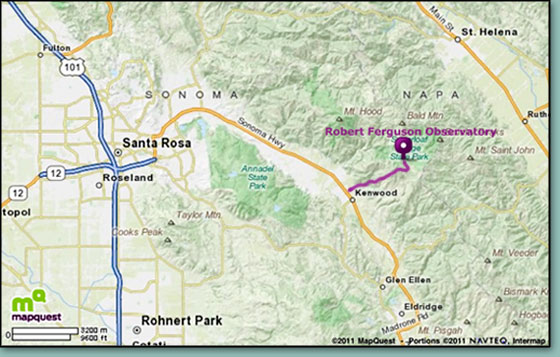 From Highway 12 east of Santa Rosa, turn on Adobe Canyon Road toward Sugarloaf Ridge State Park. Follow the road up the canyon. From the Park's entrance kiosk, proceed straight up the road, following the signs to the observatory. Please drive slowly—hikers and animals abound!
Just past the horse corrals, you will come to a green gate. Do not drive past the gate, even if it's open. Park in the gravel area between the corrals and the green gate, then walk past the gate up the road a short distance to the observatory.
Hours
The Observatory is not open to the public except for scheduled events.
What to expect
A typical Public Observing Night is staffed by volunteers who run the observatory's three main telescopes, operate smaller scopes in front of the observatory, provide education talks on astronomical topics in the classroom, help to park cars, and assist visitors move about the observatory in the dark. Visitors are encouraged to ask questions about astronomy, cosmology, telescopes, and the observatory itself. Alcohol is prohibited on Observatory grounds.
Night Viewing Times
Our start times are listed on the Star Parties page. We keep the observatory open as long as there are visitors, but you must arrive within 3 hours after start time to ensure that we remain open for you.
About Night Vision
Why do we use red light around the Observatory? It takes about 20-30 minutes for our eyes to adapt to the dark, and we want to see all we can through the telescopes! Red light interferes the least, but any light has an effect. We provide red cellophane covers for your flashlights, but please keep them pointed away from people, preferably at the ground. See our Star Parties page for more details.
Browse our Store
The Observatory has a retail counter inside the building's main entrance that offers tools for observing such as planispheres, red flashlights, foot and hand warmers, binoculars, guides and more.
PlanetWalk
PlanetWalk is a scale model of the solar system designed to fit within the boundaries of Sugarloaf Ridge State Park. It's a 4-1/2 mile round trip hike to Pluto and back, and gives you a physical appreciation of the distances between planets.
Sugarloaf Ridge State Park
For more information about hiking trails and Park amenities, visit the Sugarloaf Park website.
Sugarloaf Ridge State Park Air Quality
Loading PurpleAir Widget…