Give your guests an experience they'll never forget!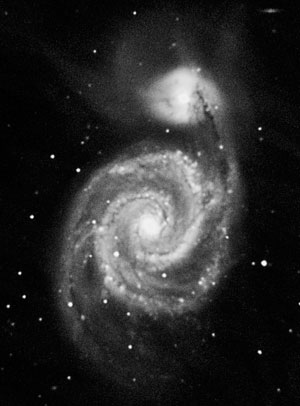 M51, the "Whirlpool Galaxy" photographed by RFO docents using our robotic telescope.
The Robert Ferguson Observatory is available for private rentals. Imagine having three beautiful telescopes and a cadre of knowledgeable docents ready to host your family, friends, school group, Scout Troop or other group—up to 50 people! Our docents can tailor an evening to fit your needs and give you a night you'll never forget.
---
A large group campground is located adjacent to the Observatory.
It has a spitted barbeque pit, picnic tables for 50 guests, an area for tents, and adjacent parking large enough to accommodate RVs. The PlanetWalk and other hiking trails are nearby. Enjoy the quiet beauty of Sugarloaf Ridge State Park during the day and spend quality time with RFO telescopes until late at night—without having to drive home.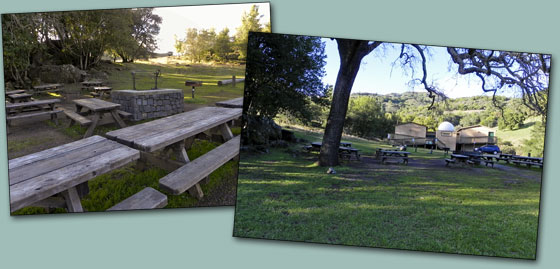 ---
RFO Daytime Astronomy Program for Private Groups
Imagine learning about our closest star and its solar system under the guidance of observatory docents. Your group can safely observe activity on our favorite star, the Sun, through the observatory's two solar telescopes (weather permitting). A classroom presentation for up to 45 people can be tailored to meet the interests of your group. The observatory tour covers three other types of telescopes in the observatory – a refractor, a 40″ reflector, and a robotic telescope.
Depending on the interest and abilities of the group, a partial or full-length docent-led PlanetWalk hike can also be provided, as well as solar viewing, a classroom presentation, and observatory tour.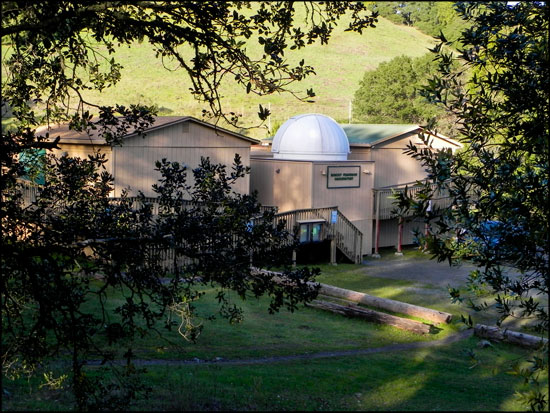 ---
How to Rent the Observatory (please read carefully):
Please note, the park campground fee (Group Campsite) is not required for events conducted between noon and 2 pm.
Follow the instructions below: Reserve the Group Campsite (required for evening programs).
Follows the instructions below: Reserve the Observatory (required)
Cost:

Observatory:

$750 Friday and Saturday; $600 Sunday through Thursday
Youth-related, 501(c)3 non profits and schools (up to 45 people) receive discounts. Contact

[email protected]

for details.

Park Campground (Group Campsite): $165
Total Cost:

$765 – $915 for private events

Cancellation Policy: Events cancelled for reasons other than poor air quality or very poor weather conditions more than two weeks before receive a full refund; events cancelled 48 hours to two weeks before will receive a 50% refund; and events cancelled within 48 hours of the event receive no refund.
---
Instructions: Reserve the Observatory
Email the Observatory at

[email protected]

with your name, phone number, preferred dates, size of group, and a brief description of your group. You will receive an email or call back to discuss the reservation and plan any special program features for your group. We will then send you an invoice for the reservation.
The Observatory should be reserved at least two weeks in advance of your event.
Cancellations must be made at least 48 hours prior to the event.

In the event of a cancellation, a rain check will be provided if weather is likely to make observing impossible.
Observatory docents provide a program which is entertaining and informative regardless of weather conditions.

Observatory rentals are limited to private events to which the general public is not invited.
If you are interested in conducting a public event at the observatory, please leave a message with a description of the proposed event and your name, phone number, and preferred dates.
---
Instructions: Reserve the Group Campsite
Because it is directly adjacent to the Observatory, the Group Campsite must be reserved and the Park Campground Fee paid whether or not the group plans to camp.
Go to Reserve California.com. Be sure to reserve the Group Camp, not the family camp.
At Reserve California, the Group Campsite can be reserved up to seven months in advance. The Group Campsite is very popular on weekends, so make your reservation for a Friday or Saturday night as far in advance as you are able.
If you need to make a reservation more than 7 months in advance, please contact
the Campground Staff: 707/833-6084

[email protected]

to make arrangements. Any reservation made through the Campground Staff will require payment in full at the time the arrangement is set up.
For Sunday through Thursday camping, after reserving the Group Campsite you may make arrangements with the Campground Staff: 707/833-6084

[email protected]

to use an equivalent value of campsites in the Family Camp area at no additional cost, when available.
---
Best Times
The dates near the New Moon are very popular (when skies are darkest and astronomical objects aren't washed out by moonlight). We also have groups reserve us to specifically observe the Moon during quarter phases.