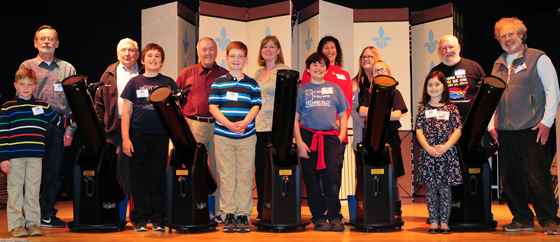 The purpose of the Striking Sparks program is to promote science education and interest in astronomy for Sonoma County students.
The program's name comes from Robert Ferguson and a student building a telescope together; this struck a "Spark" of interest that contributed to the student ultimately graduating with a Ph.D. in Astrophysics. Our program's goal is to strike more sparks of interest in Sonoma County students.
Each year we award the contest winners new, easy-to-use, 5.3-inch reflecting Dobsonian mount telescopes.
Candidates are nominated by their teachers or by RFO members. Applicants must be Sonoma County students in first to eighth grade to be eligible. Attendance at one or more Robert Ferguson Observatory events before contest entry is required. Lastly, the candidate must write an essay about their interest in astronomy.
Get your Striking Sparks application here.
Sponsorship
You or your organization may sponsor a telescope and participate in this worthwhile program. The cost to sponsor a Striking Sparks Telescope is $500. An engraved sponsor's plaque is attached to each telescope. You can also donate to our GoFundMe Campaign.
For additional information, contact Larry McCune, Striking Sparks Coordinator, at lmccune at rfo.org.
History of Striking Sparks
Here is a video that chronicles the beginning of the Sparks program way back in 1985:
Note that the telescopes shown were hand built, because retail telescopes were very expensive. When costs came down in 2012 we began to purchase the telescopes.