RFO is truly a place where individual volunteers make a difference: it's a place where ideas come to life. The Observatory was built and is maintained by volunteers. All of the public events, private events, classes, and labs were conceived by and brought to fruition by volunteers. RFO's volunteers work together, combining skills and talents to create this special place.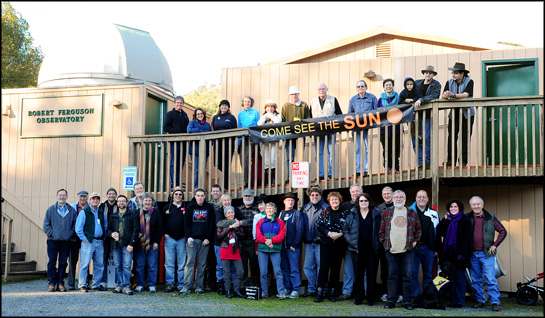 People interested in volunteering often don't know where to start. Perhaps you don't have a clear idea of what you would like to do to help. Perhaps you're not sure that your skills, talents and interests would be a good fit.
The wonderful part of volunteering at RFO is that there is a place for everyone. You will find that you DO have something to offer. You may find yourself interested in some activity at RFO, and you can learn more about it and then volunteer. Many of us have discovered skills and talents we didn't know we had, and that's very exciting for everyone.
The VMOA needs volunteers to accomplish its mission—we only have two paid staff. In fact, the entire observatory is the result of volunteer generosity.
Volunteers help us bring the sky to our visitors in ways that don't require them to know any astronomy. We have many volunteer jobs that you can do with only a little training. Some involve support positions at public viewing session, others are administrative support positions that are essential to our operations.
Docents are volunteers with some knowledge of astronomy. They enjoy interacting with the public by explaining the night sky and answering general astronomy-related questions. If you enjoy learning about astronomy and sharing what you know with others, you can become a docent at Robert Ferguson Observatory.
Technical Volunteers bring their special skills to help us serve our visitors better. We can use help with computers, web programming, machining, telescope maintenance and other tasks that require expertise. We don't train you in these skills, but you can learn a lot by helping us.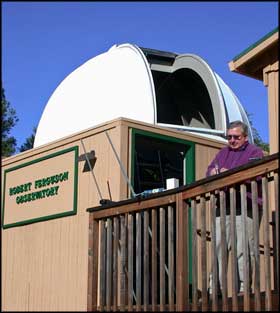 At right: Long time docent Larry McCune working on the dome mechanism.
Training: All volunteers and docents start with a new volunteer training that is one evening a week for three weeks. These are currently held virtually. In this training you will learn more about Sugarloaf Ridge State Park and how the VMOA runs the Robert Ferguson Observatory. You will learn about various volunteer positions and events you can become involved in. For those who are interested in learning how to operate the telescopes, RFO offers further in-person training on each of the three telescopes following the initial new volunteer training. Volunteers can choose which one to train on, or all three if they wish. We teach general astronomy, how to maintain and run the telescopes, how to work with the public, how to do digital imaging with CCD cameras, and lots more.
Benefits: As a benefit of volunteering you can sign up for any of our classes for no fee, and we open the observatory to docents for private observing four nights every year. The best benefit, though, is the fun of sharing astronomy and the night sky with our visitors.
Docent Training
New docent trainings are held several times throughout the year. If interested, please fill out the Volunteer Application Form and we will keep you informed of our next new volunteer training. Please contact Stephanie Derammelaere with any questions or for more information: [email protected].
Our Volunteers are CRITICAL to RFO
Volunteers have:
Hosted 9,175 visitors in 2018
Built the Observatory
Created the PlanetWalk
Built a robotic telescope
Created a library
Built a radio telescope
Taught astronomy classes
…and have built a huge new telescope for us!
Who are our Volunteers?
computer programmer
hot tub salesman
high school math teacher
psychotherapist
court reporter
optics engineer
electrical engineer
civil engineer
artist
electronic cable designer
chemistry teacher
weaver
photographer
pilot
web designer
scout leader
church elder
chess master
wine maker
retired military
bird watcher
fly fisherman
physician
---
President's Volunteer Service Awards
RFO is a certifying organization for the President's Volunteer Service Awards. This means that for volunteers that have a certain amount of hours, they would be eligible to receive this award from the President. Click here to learn more.